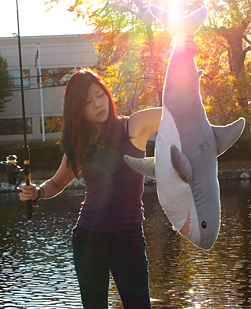 Kai Chen is a 2D artist trained in traditional illustration and cartooning at the School of Visual Arts.
She began her lifelong quest to become a video game artist at the tender age of 6 when she spent days drawing new characters ideas for her favorite game Super Bomberman…all over her bedroom walls. (The days after that were spent grounded.)
When not drawing, Kai enjoys biking and photography, as well as musing over and playing video games.  Her present favorites are Ghost Trick and Rune Factory 3.
Kai recently moved cross country to San Francisco to pursue her dream of being a game artist. Her latest project is the retro PC game Caravan.
You can contact Kai by emailing her at kai@robo-kai.com.
Download Resume: pdf | doc
Projects
Caravan
Co-creator and Game Artist, July 2011
Developed retro visual style and art assets in homage to The Oregon Trail while integrating elements of the fantasy genre.
Created environments, characters, and events using Adobe Photoshop.
Maintained constant communication with developer co-creator to promptly address any new requests or necessary revisions.
Delivered visually compelling and polished work within a one month deadline.
Screenshot featured in IndieGames.com article.
Visuals rated 4 out of 5 by Something Awful's Game Dev Challenge VI.
Work Experience
Navigation Solutions (Plano, TX)
Contracted Photographer (Off-Site), March 2011 – June 2011
Took over 300 photographs of locations in New York City and San Francisco.
Altered photographs in Photoshop to fit client's specifications.
Communicated daily with client to promptly address necessary revisions.
Best Buy (Paramus, NJ)
Media Sales Associate, October 2010 – March 2011
Engaged customers in dialogue in order to understand their needs and best fulfill them.
Worked with peers and supervisors to maintain a clean, organised, and upbeat sales floor.
Mentored new employees in company methods and tools alongside fulfilling personal tasks.
Education
School of Visual Arts (New York City, NY)
Bachelor of Fine Arts, September 2004 – May 2008
Majored in Illustration and Cartooning.
Graduated with a 3.4 cumulative GPA.
Dean's List for three semesters.
Additional Skills
Photoshop
Illustrator
HTML
CSS